Condylocomp® LR3
Registration system for computer-assisted TMJ and functional diagnosis
Sales and distribution is suspended because of Freecorder® BlueFox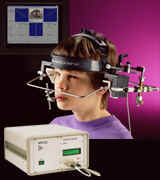 Condylocomp® LR3 is a computer-controlled recording device with a wide range of applications for TMJ and functional diagnostics. It measures the full three-dimensional mandibular movements (translations and rotations) opto-electonically and contact-lessly with maximum precision. The recording data are transmitted from the patient to a micro-processor-controlled data aquisition device and pass on a computer where they are evaluated by the highly efficient software JAWS 7.5 (final version) for Microsoft Windows XP/Vista/7.


Area of application:
Diagnosis of TMJ derangements and functional disorders
Occlusal splint therapy
Articulator programming
High quality prosthetics
Orthodontics
Science and research
Advantages:
Mounting procedure easier and faster
Registration in a few minutes
Highly accurate
Maximum of information
Better diagnosis and therapy
Visual field of patient is not restricted
Occlusal surfaces are untouched
Tongue area is completely free
Maxilla is not touched
Very light lower measuring bow (50 g approx.)
No cables lead to the maxilla and mandible

Download brochure  (3,87 MB)

The CONDYLOCOMP LR3 is certified in accordance with the Medical Devices Directive MPG 93/42/EU, class IIa, appendix II.